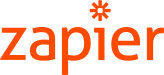 Zapier is one of the leading automation platforms for businesses of all sizes. It supports the integration between 5,000+ apps saving valuable time for you and your team.

The relatively quick implementation of Zapier integrations can launch your business in no time. Common integrations support workflow sequencing, reducing annoyances or mundane tasks that require a person to click a button or think about what to do next.

In the short term, Zapier is more affordable than custom developed automations, and offers a quick build and delivery timeline. Businesses seeking a fast and affordable solution can use Zapier to integrate tech rather than pay for expensive custom development automations.


Here are our Top 5 Uses Cases
for business automations you can build with Zapier…
Enhance Customer/Client Communication

Improve Internal Communication & Workflow


Boost Social Media Presence

Own The Client Retention Process

Your Problem, Meet Our
Solution
While
Zapier

is a relatively simple technology to implement, business owners can still face the limitations of time and technological knowledge. Our tech savvy team can quickly analyze business needs and get integrations rolling within 1-3 weeks, provided your existing technologies are Zapier compatible.
Delivery Timeline:

1-3 weeks
varies depending on number of automations and number of technologies connected
Project Cost Range:

$750-$2,000
varies depending on number of automations and number of technologies connected